Starcash, the next innovation of TEB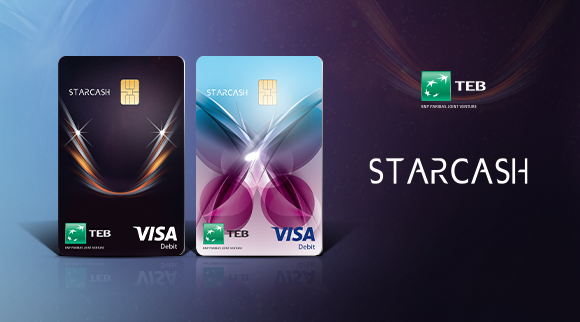 Bank Debit Cards of vertical format, for the first time in Kosovo by TEB Bank Sh.A.
The real commitment stands on the time of use and the commitment of TEB Bank, as a leader in the bank card market in Kosovo has been proven for 13 years now.
The latest innovation that TEB Bank brought among the bank cards in Kosovo is a vertical format of Debit Cards named Starcash. Vertical Debit Cards, along with other technological innovations, are a growing trend in recent years across the globe.
The Starcash card comes in two designs, in order to suit every client.
With Starcash you manage your current account and can perform various services such as:
- Cash deposit in ATMs without commission.
- Withdrawal of cash without commission in all ATMs of TEB Bank.
- Internal bank transfers in all ATMs of TEB Bank without commission.
- Payment of Credit Card debt (Starcard) in ATMs through - Starcash without commission.
- Contactless payment in POS terminals.
- Payment without commission in POS terminals within Kosovo, while for payment in POS terminals of TEB Bank you get 0.25% bonus for each purchase.
- 3D secure for online shopping with Starcash.
TEB, the Bank for a changing world!