To women entrepreneurs, develop with TEB!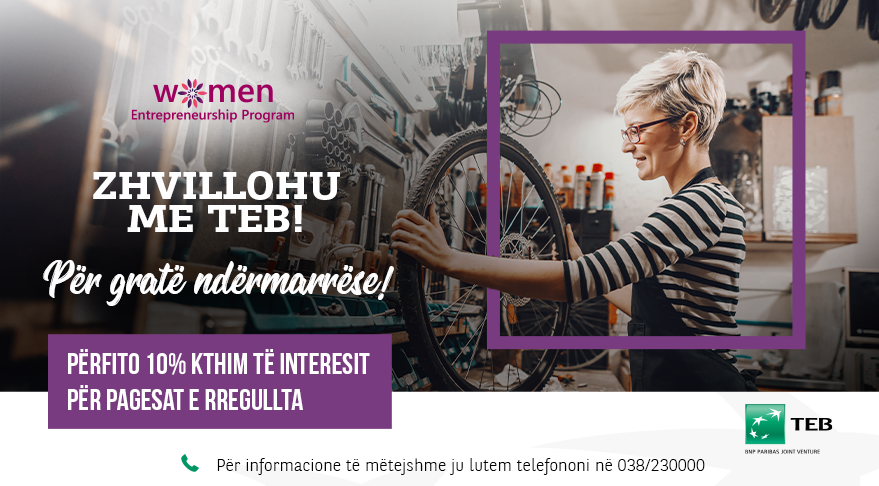 TEB Bank supports the development of women's businesses by offering loans with preferential terms without a mortgage!
TEB Bank is the only bank in Kosovo that offers financing for women's businesses through the Women Entrepreneurs Program. This program supports new ideas (Start-up businesses) as well as existing businesses that are owned or managed by women.
For each loan taken and paid regularly, TEB bank offers 10% repayment of interest paid to all clients.
Who can apply for a loan?
All new and existing clients with majority owned by women with financial capacity, proven credit history and valid investment plan.
Loan amount
For startups: from 1,000 Eur to 50,000 Eur
For existing businesses: starting from 5,000 Eur
– Administrative expenses ~ 0.50%
– Loan maturity up to: 84 months
– Grace period: up to 3 months
– Effective interest rate starting from: 7.19%
– Incentive: 10% reimbursement of the paid interest at the end of the loan term, in cases where installment payments are regular*
Where can you find more information about the Women Entrepreneurs Program?
If you would like to learn more about TEB business services, visit one of our branches and discuss your needs with a bank official, contact our Call Center at 038 / 230-000 or e-mail us at info @ teb-kos.com.
*For all clients who have no delays in their loan repayments.
The offer is valid until 31.12.2021
TEB, the Bank for a changing world!